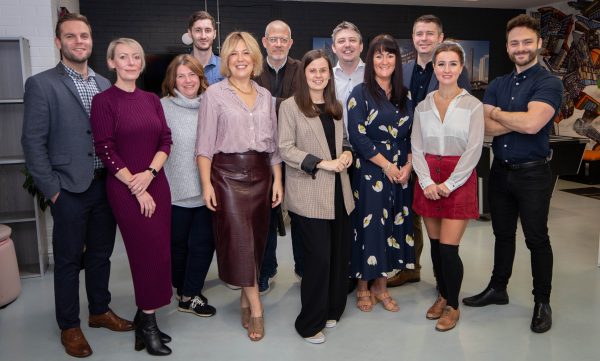 Rio Architects announces three new Directors and significant leadership appointments
Following continued growth and many significant achievements across multiple sectors, award-winning architectural practice Rio Architects' position in a fast-changing, ever-challenging and competitive industry has been strategically strengthened by a series of promotions and leadership appointments within its Cardiff and Edinburgh studios.
These exciting changes will enable us to focus on developing our core business areas of architecture, interior design, masterplanning and visualisation, whilst providing a platform for taking full advantage of new opportunities. Additionally, they provide the stage for exploring opportunities in new and emerging markets, innovative ways of working, the creation of new departments and the development of cutting-edge research and new ideas.
As a result of these exciting developments, Rio Architects will look a little different:
Chris Taylor, Ffion Lanchbury and Kate White will join Richard Roberts, Andrew Baker and Mike Dacey as Directors. Together, they will develop Rio's vision and business strategy for future growth and continued success as we enter our third decade.
We have always had an incredibly talented and dedicated team at Rio and these strategic changes will help provide the catalyst for taking the practice to the next level, allowing us to expand our current offers whilst exploring new, emerging markets. Significantly, all promotions are from within, reinforcing Rio's culture and brand and at the same time illustrating the company's core philosophy for career development. It is an absolute pleasure working with such an extraordinary team and I'm looking forward to seeing how the business develops over the years to come."
Richard Roberts
Founder
Chris, who has been with the practice for 17 years, specialises in commercial and high-rise residential developments. He has been heavily involved in many of Rio's most well-known projects, most recently achieving planning approval for 715 BTR units at Central Quay, Cardiff. He is currently leading a number of challenging high-rise schemes across South Wales.
Ffion who joined Rio in 2014, has considerable experience working on large, complex projects, recently delivering the iconic Bridge Street Exchange Student Accommodation development in Cardiff. She is currently Vice Chair of the FBE (Forum for the Built Environment) Cambria branch and will take over as Chair in March 2023. Ffion is presently leading the team developing a ground-breaking, multimillion pound, town centre campus for Bridgend College.
Kate, who's energy and dedication has been pivotal to Rio's success has been the business' Practice Manager since its inception in 2000. She is also promoted to Director and will take specific responsibility for managing Finance and HR across the business, working closely with the senior management team.
Rio Architects has also announced further promotions comprising Associate Directors, Associates, a Digital Construction Lead, a Digital Construction Manager, a Senior Architectural Technologist and Office Manager. Promoted to Associate Director are Shirley Hamill, Dan Lewis and Claire Broad.
Shirley Hamill becomes Associate Director (Scotland Lead) and will drive the growth of Rio's Scotland office.
From her base in Edinburgh, she is already managing several large high-rise projects in London's Canary Wharf and Leeds city centre. Joining Rio in 2005, Shirley has considerable experience working closely with developers on complex sites, particularly within the residential sector.
Key to our plans will be the formation of focused design and business forums covering different aspects of the business such as creativity. Consequently, Dan Lewis has been promoted to Associate Director (Creative Lead) to manage and develop Rio's design vision and philosophy across all disciplines within the business.
As Creative Lead, he brings considerable experience to the practice working on many of Rio's high-profile projects, most notably Masterplanning Cardiff Council's transformational 30-acre Atlantic Wharf development.
Since joining Rio in 2006, Claire Broad has been instrumental in guiding our award-winning interior architecture offer. It has matured year after year to the extent that it now produces a quality design and service capable of competing with some of the largest practices in the UK. With significant and varied interior architectural experience across a wide range of sectors, combined with her passion and endless enthusiasm, Claire will focus on leading the Interior Architecture team as we move into the next phase.
Promoted to Associate is Lauren Williams.
Over the seven years she has been with Rio, Lauren has worked on numerous projects, many specifically within the education sector. Lauren will now manage the operational side of Rio's Interior Architecture department and, working closely with Claire, will help develop initiatives to drive its growth.
Associate, Andrew Joss, is an experienced BIM Manager and Co-chair of the UK BIM Alliance (Welsh region). With over 15 years of experience in this field, he now becomes Rio's Digital Construction Lead. He will continue to develop and manage Rio's collaborative approach to digital work processes seeing that Rio remains at the forefront of this important technology.
Having joined Rio in July 2021, and after showing exemplary technical attributes, Senior Architectural Technologist Daniel Bees will become Digital Construction Manager. Working closely with Rio's Digital Construction Lead he will see that Rio's excellent background in digital project delivery, and the mentoring of new talent, flourishes.
James Richards, an experienced Architectural Technologist, has been a key member of Rio's digital construction team for many years. His first-class approach to technical delivery and mentoring of staff sees him currently managing the delivery of Rio's design for Baytree SEN school in North Somerset which has recently broken ground and has been promoted to Senior Architectural Technologist.
Sian Evans is promoted to Office Manager/Document Controller. Her enthusiasm and continued positive attitude towards Rio enable her to see that the office runs smoothly and efficiently. Sian will oversee the business's day-to-day administrative duties whilst continuing to manage the important control of incoming and outgoing documentation.