Creating civic identity in Leeds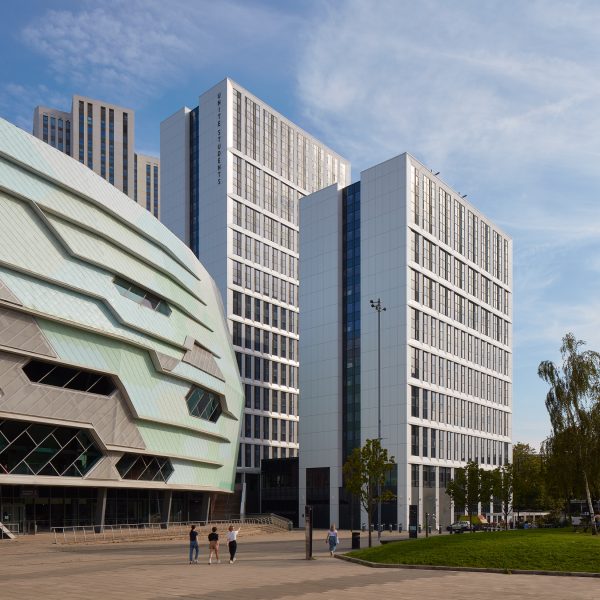 White Rose View, comprising 976 student homes in two towers of 18 and 28 storeys including ground floor and mezzanine, establishes a new urban gateway in Leeds with 9,000 square feet of commercial space, shared residential amenities and public realm areas.
The building creates a distinctive first impression for visitors to Leeds and aligns with the city's aspiration to be a European city characterised by buildings that exude a sense of civic presence and an impressive and appropriate tectonic architectural composition rather than relying on gimmickry.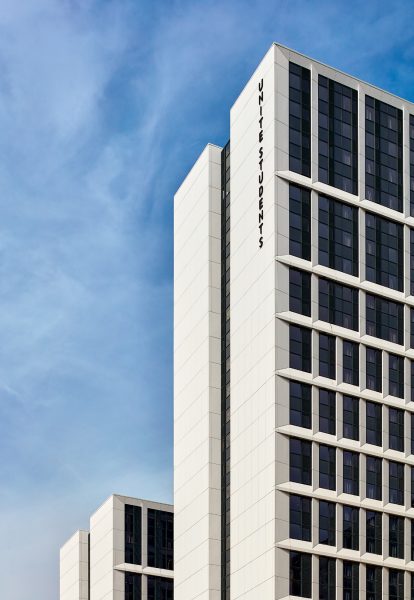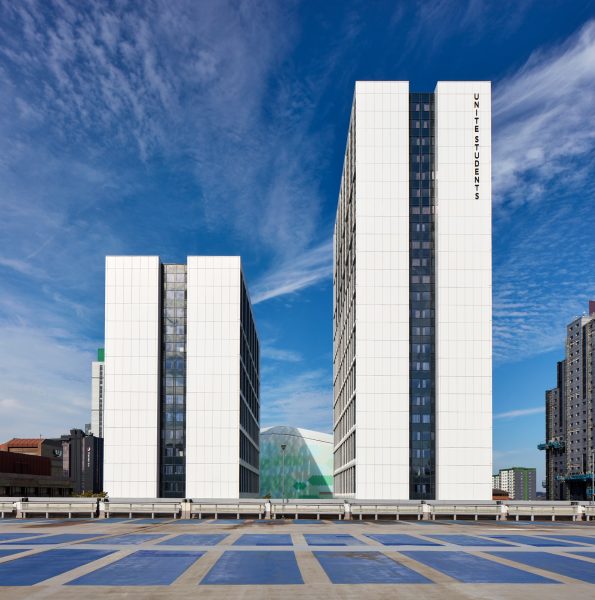 Urban transformation
The development plays an integral part in the regeneration of the Arena Quarter and contributes to the emerging cluster of tall buildings in the area.
The design of the 19 and 29-storey buildings employs subtle articulation and meticulous detailing to create interest and animation within a contemporary and elegant form. In doing so, we have given rise to a building with a timeless quality poised to stand as a lasting city landmark.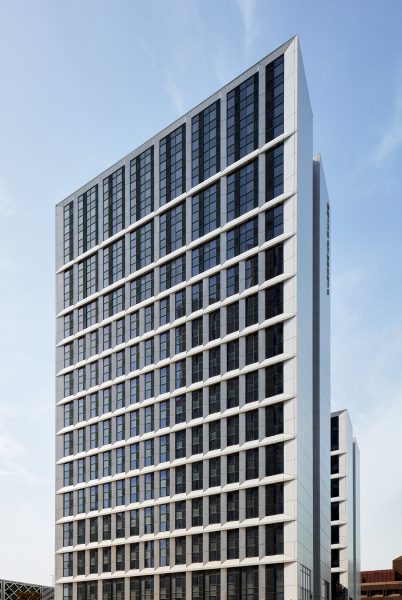 Market-driven design
Unite focuses on maintaining its position as the leading provider of student accommodation in the UK by having an excellent brand, operating the highest quality portfolio, and maintaining the strongest capital structure in the sector.
We conducted a thorough market analysis to identify trends and potential demand, ensuring our design aligns with the client's goals. Our design approach maximised the accommodation capacity without compromising comfort and quality, thus increasing the potential to accommodate more students.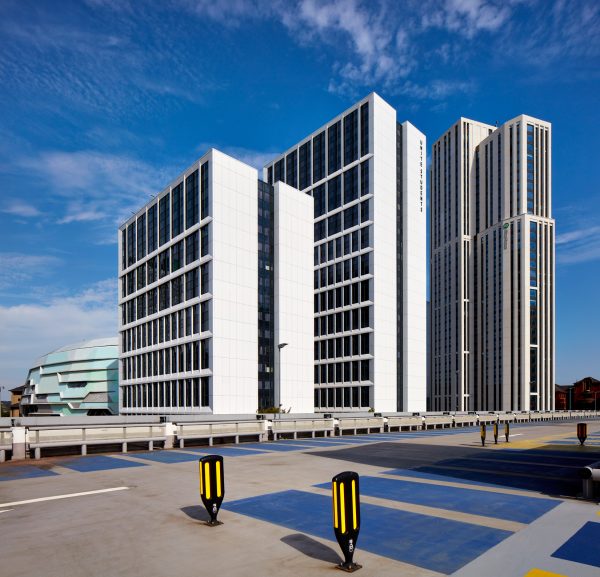 Urban connections
The area surrounding the building is characterised by an array of urban structures, showcasing a spectrum of architectural styles and functional purposes typical of a city centre. The overarching goal set by the local authority for the site masterplanning was to enhance connectivity and accessibility between Merrion Way and the Arena.
In light of this objective, our design strategy centred on weaving together public spaces that facilitate a direct connection between the Arena and the city to the south with emphasis of revealing views to the Arena.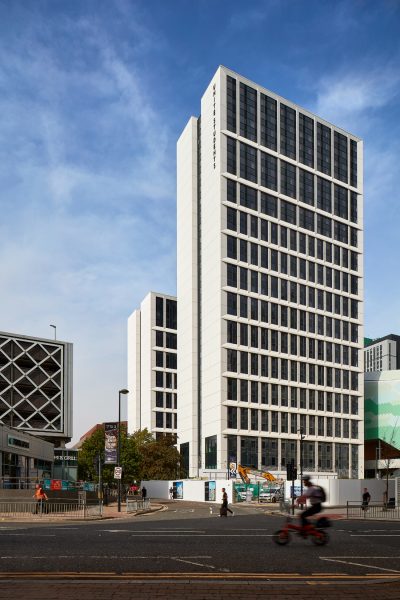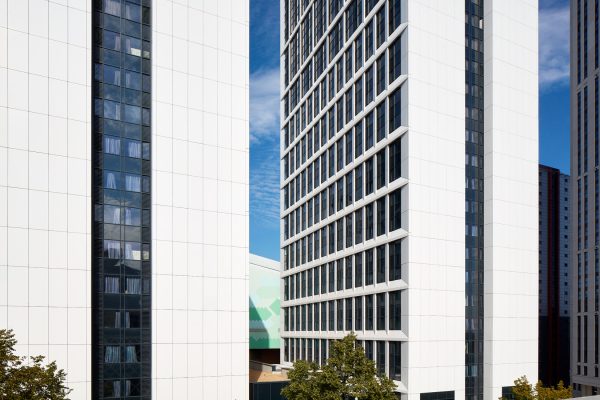 Designing for people
The immediate landscape was carefully integrated into the design, with the space between the towers a place in its own right, undercover and featuring portal frame canopy with emphasis on prioritising pedestrians, fostering an environment where foot traffic takes precedence, and creating a car-free zone for students to live.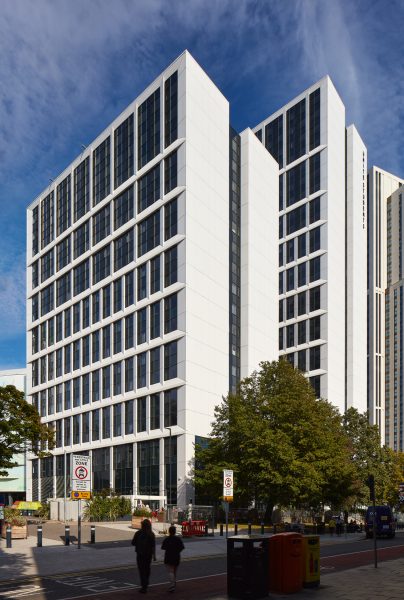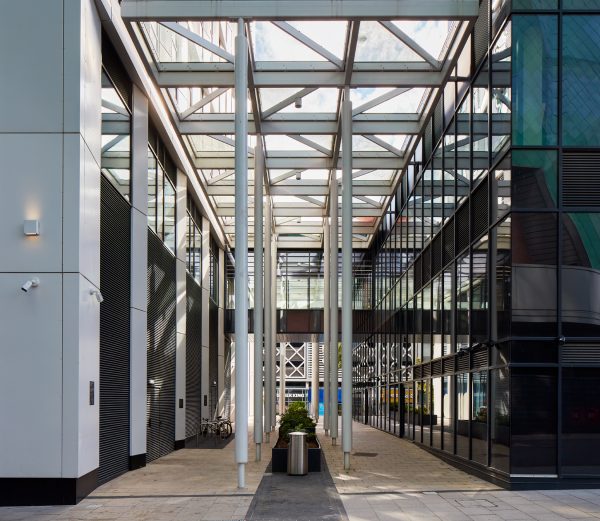 Enhancing Cardiff's commercial landscape