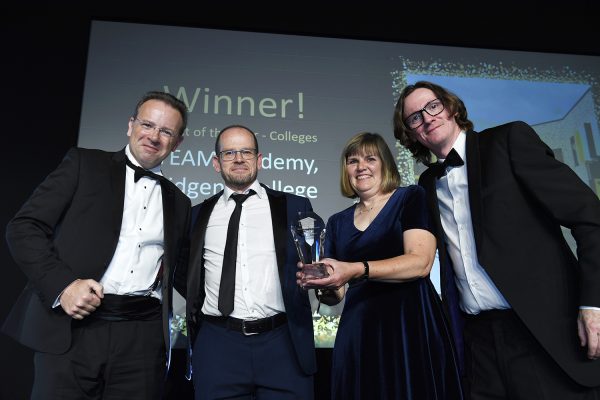 Rio win at Education Estates Awards
Rio Architects is thrilled to have won an award at this years' Education Estates Awards.
As the Education Estates Exhibition | Conference | Awards celebrates its 10th year, we celebrate the STEAM Academy winning Project of the Year in the colleges category.
Completed in July 2021, the Science, Technology, Engineering, Arts and Maths (STEAM) Academy is an 8,500m² further education facility for Bridgend College at their campus in Pencoed. The building includes workshops for vehicle maintenance, welding, M&E, Pneumatics and CNC, laboratories, classrooms, staff areas, a multi-functional hall, a café and break-out social learning spaces.
We strive to create educational spaces that inspire and empower young minds. Driven by a desire to create a building of high architectural excellence, the design approach successfully delivered a contemporary, modern and high-quality teaching facility whilst paying deference to the existing campus environment.
The nature of the architecture is sober, robust and confident and will enhance the quality of the campus and the experience of both staff and students.
With over 100 exhibits and 120 speakers, Education Estates is an annual gathering of the Education Community and focuses on funding, design, build, maintenance and management of schools, colleges and universities.