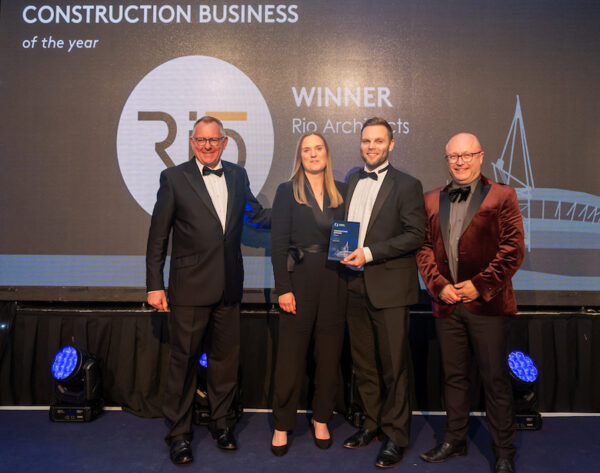 Rio win Construction Business of the Year award
We were proud to take home Construction Business of the Year at the Cardiff Business Awards ceremony on the 17th of November. Dan Lewis and Sarah Wason collected the award for the team at the Mercure Cardiff Holland House Hotel.
This award recognises Cardiff-based companies that have made a real impact in the construction and building services sector.
The judges looked for construction businesses that have achieved growth and strong financial performance through innovation, exceptional customer experience and focused on future business success.
Winning this title acknowledges the dedication, creativity, and hard work of our talented team. We are immensely proud of the transformative projects we've been part of, pushing boundaries and shaping the architectural landscape in Cardiff.
This award is not just a recognition of our past successes but also a catalyst for the exciting projects that lie ahead.
The sheer talent of the businesses and entrepreneurs that enter the awards year on year is nothing shy of incredible and we're incredibly lucky to have such a thriving business community right on our doorstep, they all deserve to be congratulated on their achievements. I would like to offer a huge congratulations to all of the winners and to all of those shortlisted."
Liz Brookes
Co-Founder of Cardiff Business Awards and Director of Grapevine Event Management