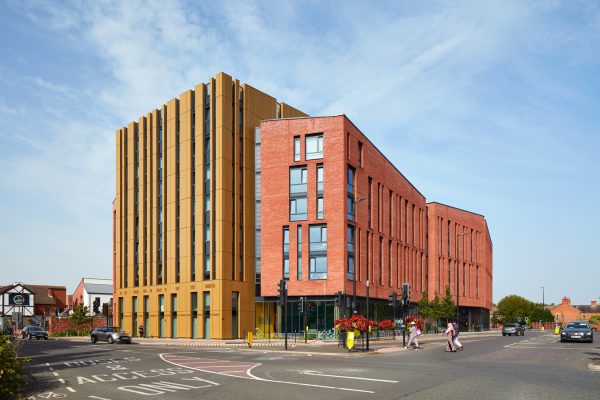 Luxurio student accommodation shortlisted at CEEM
Rio Architects is delighted to have been shortlisted for the Constructing Excellence East Midlands 2022 Awards as it centres towards a bumper year of accolades following the quiet lull of the past couple of years.
CE Midlands is a progressive membership organisation committed to improving business performance by driving innovation and best practise in the construction industry.
Future Generation's, Luxurio Student Accommodation, shortlisted in the Building Project of the Year category, was completed in September 2021.
The 3-7 storey building has set a quality benchmark for intelligent and attractively designed buildings in Loughborough and sets a distinctive and unique landmark near the town centre, contributing positively to its surrounding environment. The development comprises a mixture of 458 bedrooms, studios, duplexes, student townhouses, and communal and reception areas, including flexible community space and 116 cycle parking spaces.
The design of the building was shaped considerably by the heritage and history which surrounded it. In-depth research of the links, ideals, materials and forms in Leicestershire informed the design of the bold and confident landmark building, inspired by forts and castles, solid masonry constructions, and brick industrial buildings with strong grid façades and landmark towers that all surround the area.
The iconic building now forms a distinctive and unique landmark in Loughborough and displays the town's diverse community and rich cultural history on the gable elevation of the central block with artwork by Florence Sargent, winner of an art competition carried out in collaboration with the University of Loughborough and local councillors.
We look forward to the Awards dinner at The Athena, Leicester, where the winners will be announced. Congratulations to all those with shortlisted projects.