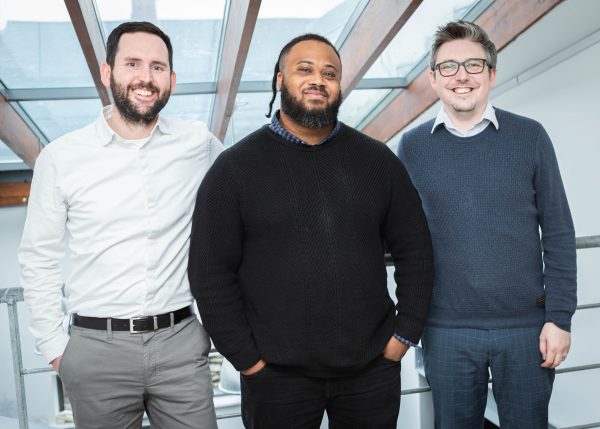 December promotions at Rio Architects
Rio Architects is pleased to announce three internal promotions to the management team.
Andrew Joss, David Whitter, and James Kenyon have been promoted to Associate and will assist with the day-to-day operation of the business as well as continuing their valued roles across multiple projects. We wish them the very best in their new and challenging roles.
James, a key member of our team, has shown his dedication and leadership during his time at Rio. His commitment to its evolution, championing R&D, coupled with his professional development, is crucial to Rio's success. He currently leading the project team on a 210 studio, 18 storey, student accommodation scheme in Leeds.
I am delighted to have been promoted to the position of Associate and look forward to contributing to the continued growth and success of the company. In particular, I am looking forward to championing our R&D programme, helping to ensure the business remains at the forefront of architectural practice."
James Kenyon
Associate
Andrew will remain as Rio's BIM manager and will lead our team in digital construction across all projects. Recently this has included The Landbase Building for Bridgend College, delivering COBie and opening up new and exciting opportunities for the business. Andrew is a member of the UK BIM Alliance, and spearheads Rio as regional leaders in this important sector.
Having started my Rio journey almost 5 years ago, I am thrilled at being promoted to Associate. I am excited to play a larger role in Rio's progression and am passionate in pushing the envelope of Digital Construction."
Andrew Joss
Associate
David was the Project Architect on White Rose View student accommodation scheme, delivered for Unite Students in Leeds. Dave has a natural passion for wellbeing and champions staff development, mentoring and wellbeing within the business. As well as tutoring for the Welsh School of Architecture, David also undertakes practice visits at student placements. David's focus on mindfulness and wellbeing will reinforce the team's staff-focused approach.
I'm energised by the opportunity to better serve the studio and our clients alike."
David Whitter
Associate